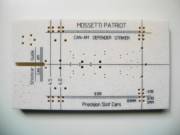 1004 Mossetti Builder chassis jig
The new Mossetti Builder chassis fixture. CNC machined for high quality and precision. Build the defender,striker and scratch build the patriot can-am retro.
Get the same winning results you expect from Precision Slot Cars chassis fixture's
sets your chassis and guide flag perpendicular to the rear axle.
Makes absolutely sure your car runs straight. Get outstanding performance and handling.
A must have for any serious racer. Works with 3/32" and 2 MM axles.
Works without removing the pans.
Included with the fixture are 4 stainless steel dowel pins for the rear axle,
9- 1/8 stainless steel dowel pins to hold chassis, 12 - 1/16 stainless steel dowel pins
1 bolt, washer and nut.
Measures 4 1/2" x 8" x 3/4" Solid material
Get yours today and find out what hundreds of racers already know.
Precision Slot Cars chassis fixture's make racers go faster and built to win!
---
We Also Recommend